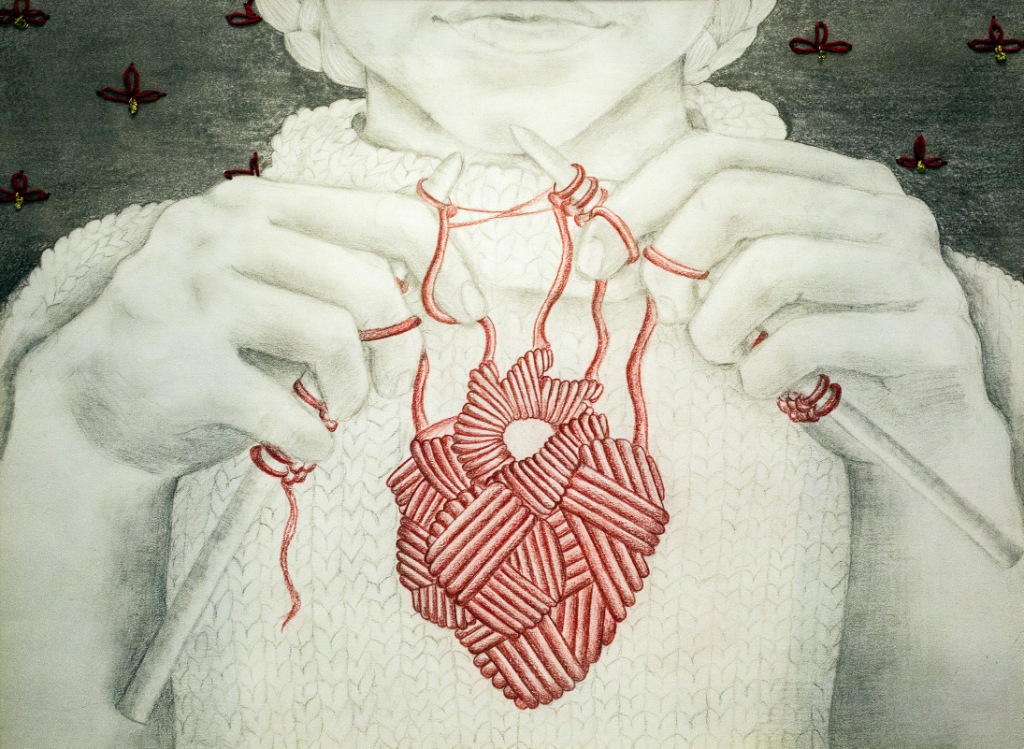 First Place High School
"Heart Strings" by Hazel Ferguson
This piece was inspired by my grandmother who passed away three years ago. She loved to knit, she loved yarn, string, fabrics and–really all things textiles. She taught my sister and I how to knit when we were little and she knit many, many sweaters and pairs of socks for us. Now that she is gone, the act of knitting has become associated with my memories of her. When knitting I'm not just making knots with yarn…I'm calling forth memories of her. My hope is to share how memories of those loved and lost can be healing. This piece is a self portrait of me knitting from a heart of string. It was done in graphite and colored pencil and is accented with embroidery in the background to represent my grandmother's presence and love for fiber art.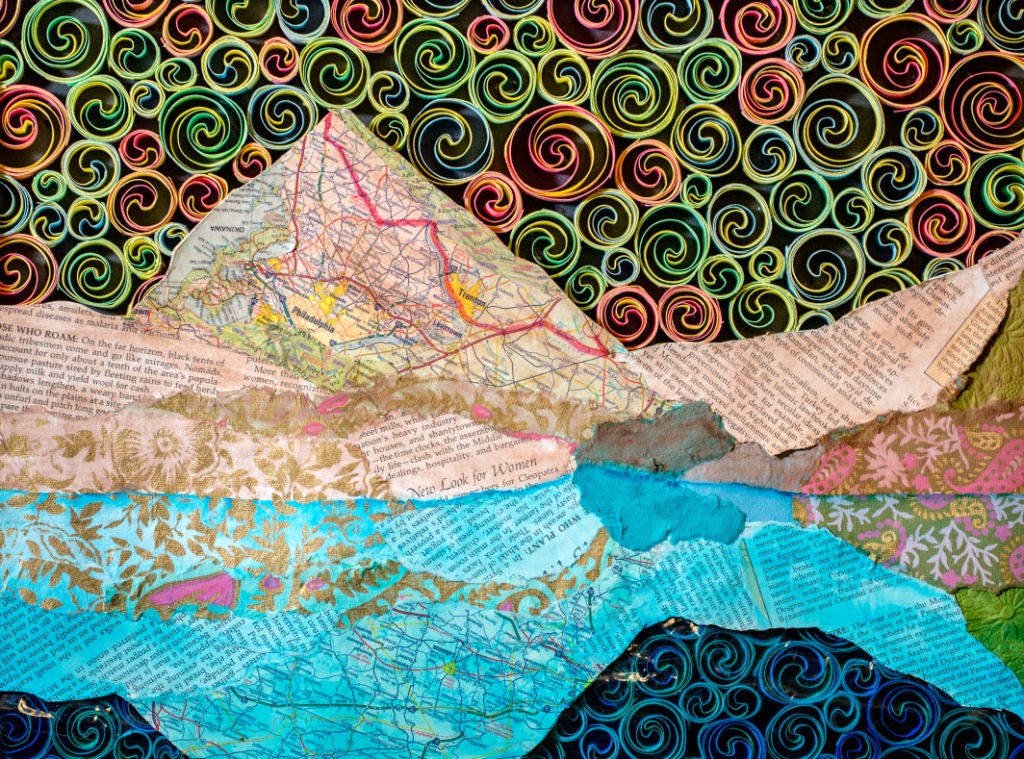 Second Place High School
"Untitled" by Olivia King
I wanted to capture the happiness nature brings me by showing a mountain scene in an unconventional manner. The comfort and serenity I find through exploration is something I wish everybody has the opportunity to experience. Stepping outside can be beneficial mentally, physically, and emotionally. For those unable, I hope they can view my piece and feel the joy nature brings.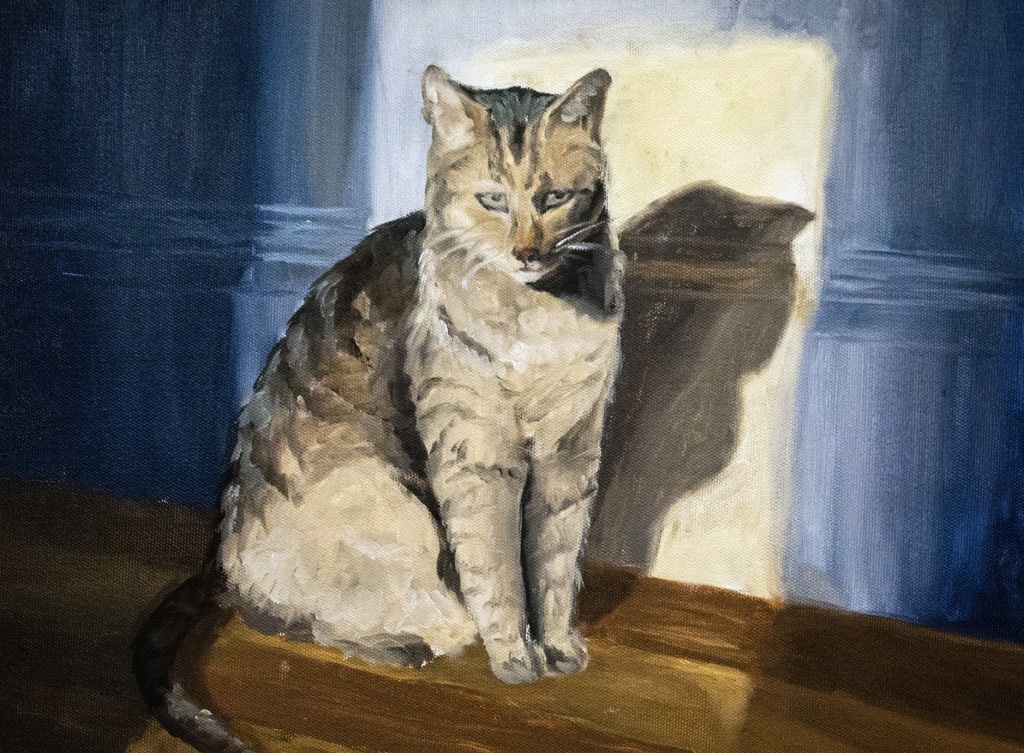 Third Place High School
"Carlos" by Gwendolyn Stark
When I was younger, I got my appendix taken out and had to remain in bed for a while at home. My cat, Carlos, stayed with me the whole time as I recovered. I think he definitely helped me heal faster and kept my spirits up. He still makes me feel happy when I'm down and brings me hope. The light shining on Carlos in the painting gives a comforting, happy mood that represents how I feel with my cat.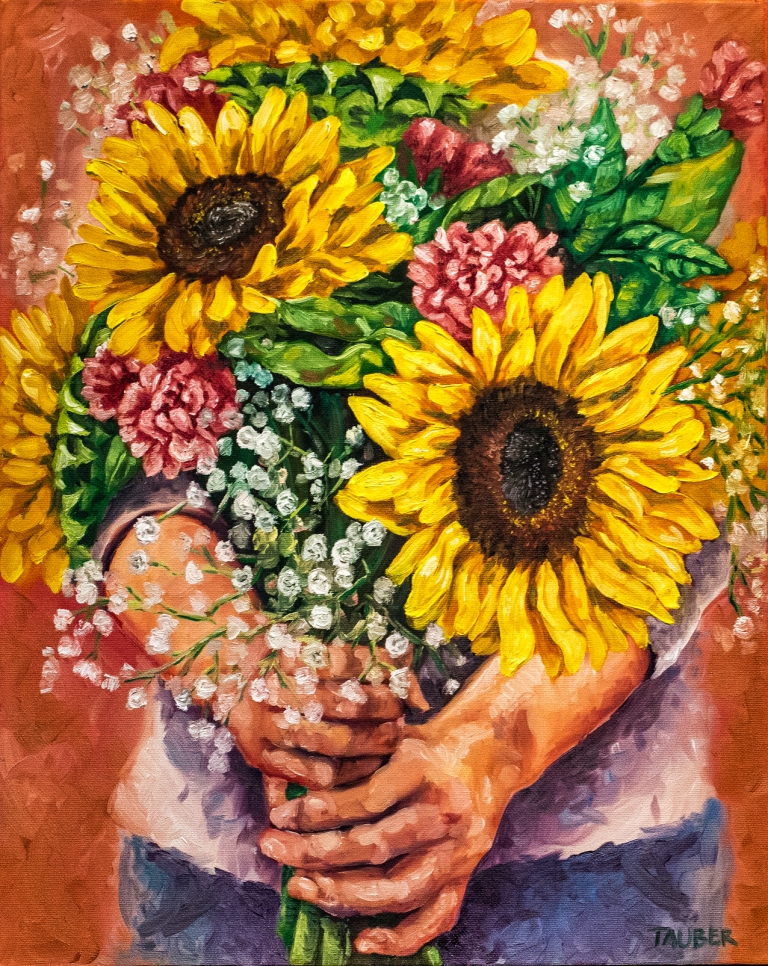 First Place College
"Flowers for You" by Alyssa Tauber
My inspiration for this painting was my grandmother. When I was home, one of the things that made me incredibly happy was how she would bring us fresh flowers every week, sometimes I'd get to go with her and pick them out too. She even bought us these beautiful fake flowers so we'd never go without. There is something about seeing a bouquet of vibrant colors that automatically brightens your day. Now I'm away at college, away from home for the first time and next to my bed I have a large vase with as many fake flowers that would fit. When I look at them they comfort me and remind me of home. I liked the idea that these flowers could help someone heal or feel happy, and that is why I painted the bouquet in outstretched hands, as if someone is giving flowers right to the viewer.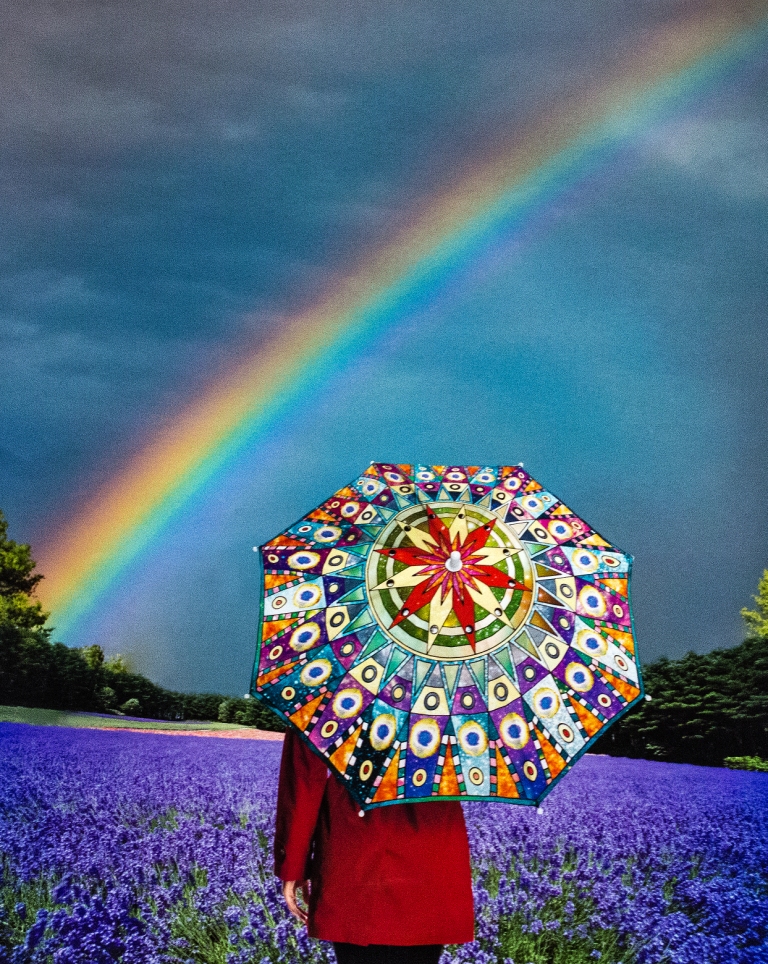 Second Place College
"After Every Storm is a Rainbow (or) Spring Day" by Jessica Marzari
Being stuck in a hospital bed under florescent lights for too long makes me stir crazy, so I wanted to incorporate being outdoors. I want the viewer to look at my piece and have an aesthetic experience. Lilacs are used in aroma therapy to promote healing; the viewer should almost be able to smell the lilacs in the field after a fresh spring rain. I used rainbow colors to make this piece be universal and inclusive to anybody's favorite color. I wanted to symbolically inspire hope, by making the patterns on the umbrella all images of space because I wanted to show that no matter the weather, the sky is still beautiful further beyond the clouds. I also used the imagery of a rainbow to symbolize the peace and calmness after a storm, which I believe is metaphorical for a person overcoming an illness.